Minimaxinature — Innovative product
Year 2021
Role
Product designer
UX, UI
Copywriting
Tools
Figma
After Effects
Concept
Minimaxinature — A Northern Collection is a fashion concept that combines creativity with clothing to give people a sustainable shopping alternative.
Together with Nordic artists, we design 6 basic garments that give you the chance to own fewer garments due to its functional natural materials; Wool and Tencel.
Based on the artist's hometown, they create an artwork to print on our garments of your choice.
"Create for a sustainable everyday life".
Problem solving
How can we reduce the environmental impact of textile consumption with a new innovative product? And how can we attract the consumer with it? Would you purchases fewer clothing if you could buy a garment of an artists' artwork for added value?
User tests + wireframe
After the research phase I started with user interviews to find out what people think about wool and sustainable fashion. The answers I received gave me a better solution and understanding of the product I wanted to create.
I went from lo-fidelity wireframes to hi-fi after several user tests and feedback.
Mobile first approach was necessary to ensure the easiest and most fluid experience for the user.
I put a lot of thougth into accessibility, such as: typography (kill your darlings), the ability to select languages, colors and contrast, distinct buttons, no text on image.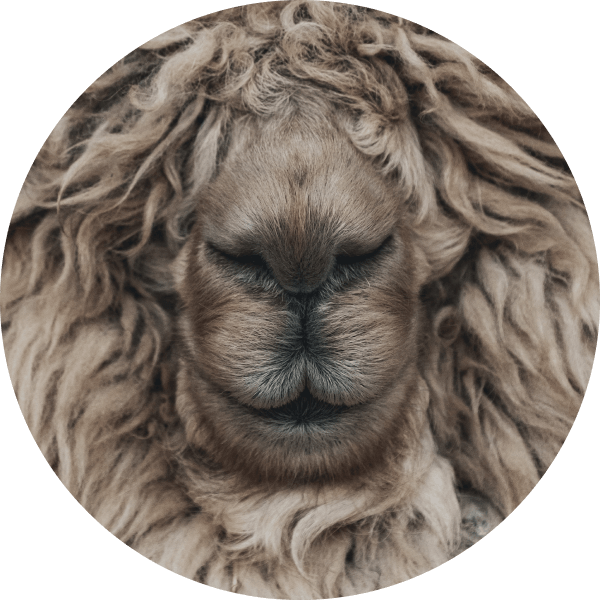 "Tencel shares many of the positive properties of wool, such as soft, durable, retain their fit and transporting moisture away from the skin."
— Minimaxinature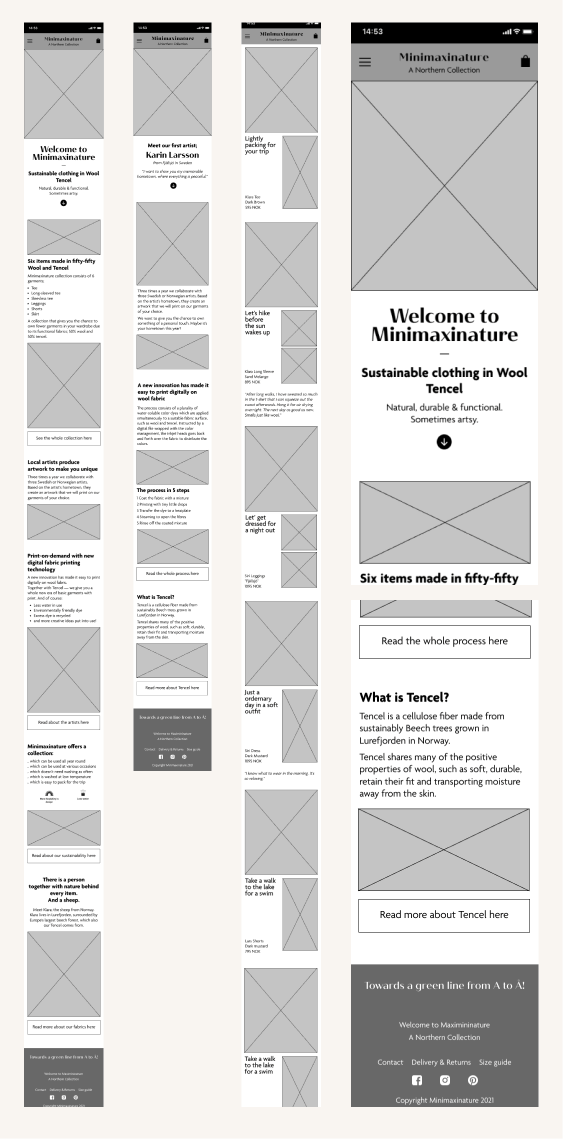 User target
Who:
The functional, environmentally conscious consumer who is happy to pay the little extra for environmentally friendly clothing. Is supportive of the local cultural market.
Pains:
Difficult to find environmentally friendly and personal clothing. Too much wear and tear synthetic clothes, and fast fashion that takes over and pushes out local companies.
Needs:
Light clothing to be used on several occasions, is durable, does not wrinkle in the suitcase, does not need to be washed often. Preferably with a pattern to feel extra pretty.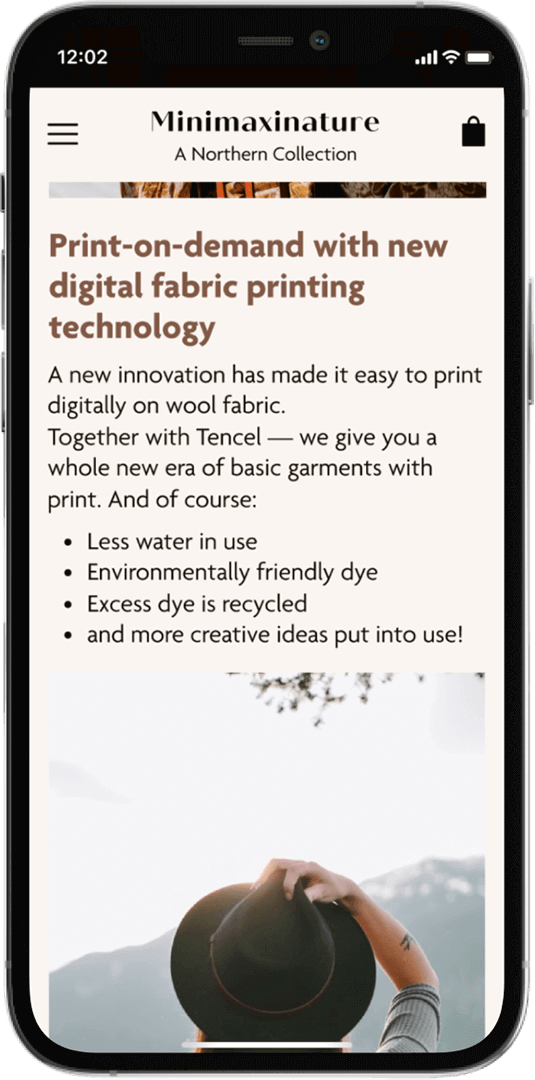 Stylesheet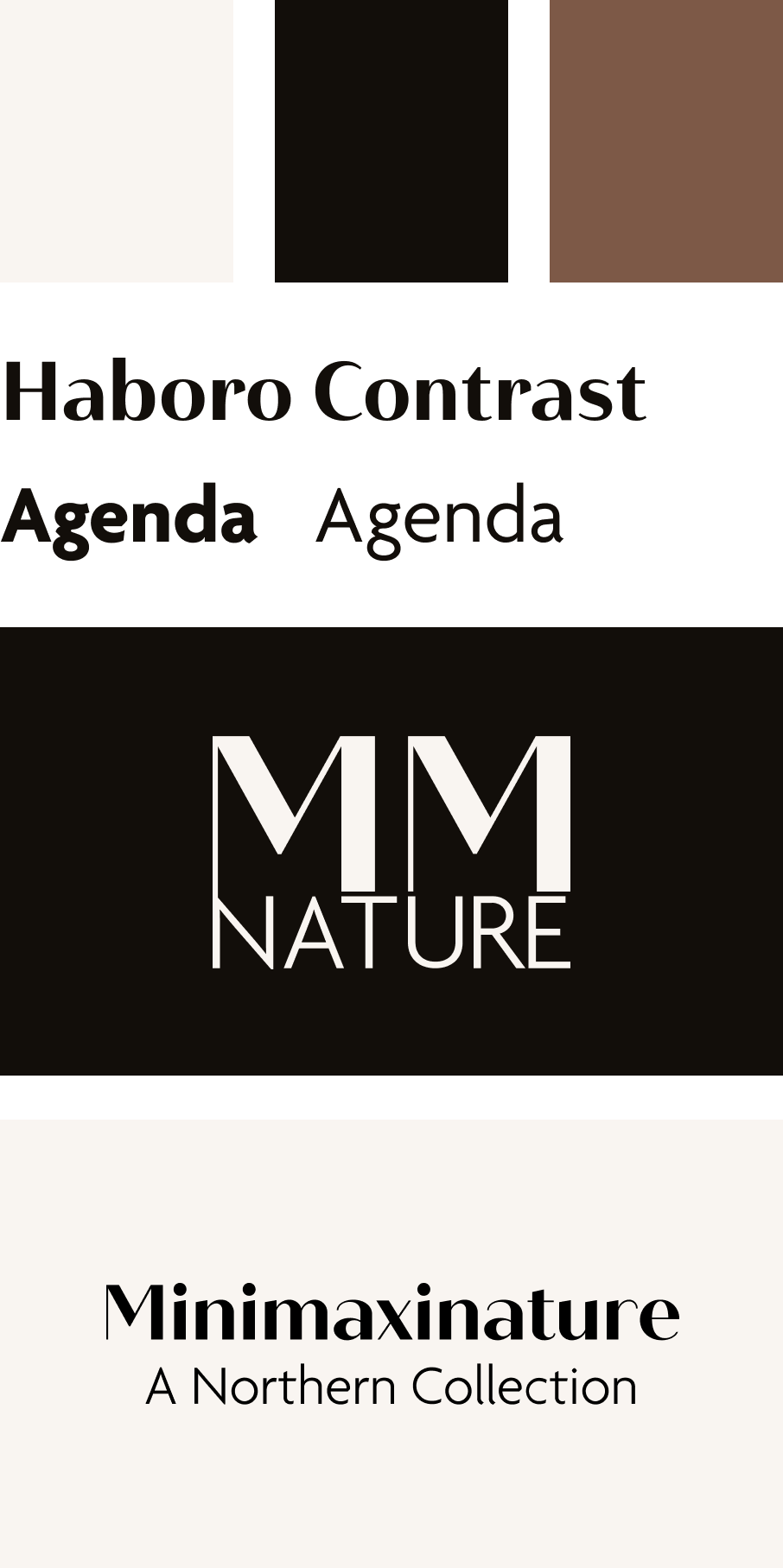 The result
Minimaxinature is the result of my problem solving. I have created an identity that matches our modern Nordic style of wool tencel with a personal and artsy touch.
The background comes from personal experience, such as growing up in Norway with the cold winters, dressed in wool from head to toe, and, also the passion for artwork.
The color palette leads you into nature to promote the nordic theme and the natural materials. Copywrigt (written by me) and the pictures (some mine) speak for the green, clean and artsy concept of the brand.
Innovation is more than an idea. It's a process of building and iterating on prototypes and testing them with users to find out what they liked, didn't like, and how to improve it. Do you like this idea? Let's make it happen!